Boob Bus, From Porn Hub and Star Bree Olsen, Teaches Women How To Handle Their Breasts
Usually when a woman touches herself for a porn company, one might question her morals or motivation. One streaming porn website took to the streets to change that assumption -- at least for a single day.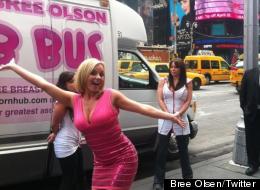 "Hop on board the bus and find out how to feel boobs...the right way!" the site promised.
I'm on board THIS BUS! ARE YOU? Tho have been told my best asset is not my boobs. Legs, dude, Legs. Stripper name now officially Legs Londo. Like IT? I do.